Well this is the last day of QtCon and I'm exhausted.  Who knew that sitting around all day listening to people talk is so tiring!!
Today, I learned about the plans for KDE PIM.  Now, don't get me wrong I love this software as a user, but as a packager, it is the beast from hell!  It has caused me so many headaches over this past few months, trying to get my head around the dependency tree.  I was glad to hear that I'm not the only one and other distro's are having similar issues.  It was also nice to know that there is a plan and reasoning for all the recent changes and not just to make packagers go mad!
I attended a talk entitled "Internet Access is Human Right" which really got me thinking.  Where I live we have a communications monopoly called BT.  They own the telephone lines from my home to the local exchange.   BT have been handed hundreds of millions in funding to roll out "super fast" broadband to rural communities in my area.  In fact the UK government added on an extra payment on everyone's line rental to pay for this.  To top this money up, our local government has also been throwing money at BT and even promising that everyone in Northern Ireland will have broadband access by the end of  2006 ( http://www.theregister.co.uk/2003/10/08/northern_ireland_offers_broadband_funds ). It is now 10 years since that promise, yet myself and many of my neighbours still cant get broadband via our telephone line and there is no chance of us getting it any time soon.  Instead we have to rely on Wireless Internet called WISP which is very expensive and not very reliable (if there is a local power outage, my internet goes off despite having backup power in my home).  It is also varies in speed and reliability depending on the weather.  Heavy rain or sleet/snow can reduce speed to a crawl.
Anyway, back to QtCon!!  Part of the talk was about Freifunk and building open, mesh networks to offer free internet access.  It struck me that my local community could use this technology to get internet access to the places BT can't or won't go.  A mesh based network could link houses together and using wireless backhaul links to a access the internet at key site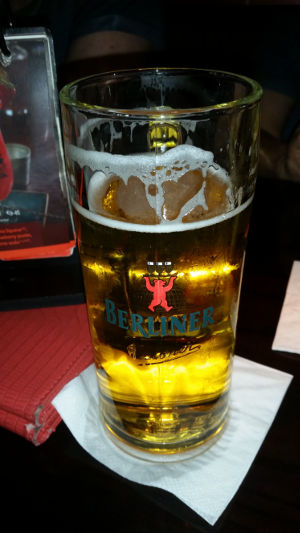 s across the network.  It could even support VoIP and we wouldn't need a telephone line at all!
In between talks and during breaks Ovie, Phillip and I worked on getting KDevelop building in KCI.  We setup git repos in Lauchpad, with unstable branches for KCI to use.  Phillip added the jobs to KCI and off it went building packages from KDE git!  We want to schedule this to be a daily build and for KCI to copy the packages into a new KDevelop PPA when it successfully builds.
You can see the builds here – http://kci.pangea.pub/job/xenial_unstable_kdevelop/
After we finished up at the BCC, we headed over to the Hard Rock Cafe Berlin.  I really enjoyed myself and the craic was mighty!  The waiters and staff were so friendly, big smiles and joking around, it was hard not to join in!  Of course the Berliner beer helped 🙂