Using KDE Connect to send and receive SMS
There have been a lot of people asking how to get the SMS feature working in KDE Connect, so hopefully I can show you how to do so.
Sending an SMS for the first time
1) The first step is to install the KDE Connect app on your mobile device, you can easily install it via Google Play, by searching for "KDEConnect" or install via the link below

2) Make sure your mobile device is using the correct messaging application.  Like a lot of other people, I have used other messaging applications in the past, and unfortunately these do not seem to work with KDE Connect.  So in your System settings, go to the Apps settings, tapping the cog icon.

Then make sure you have the SMS app set to "Messaging" as shown below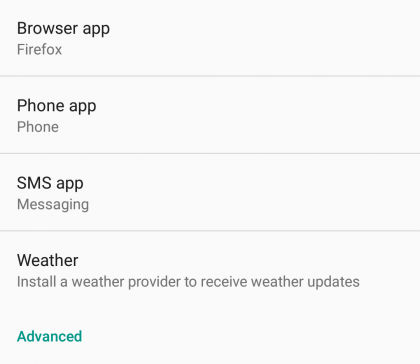 3) Next you need to install KDE Connect on your computer and pair it with your mobile.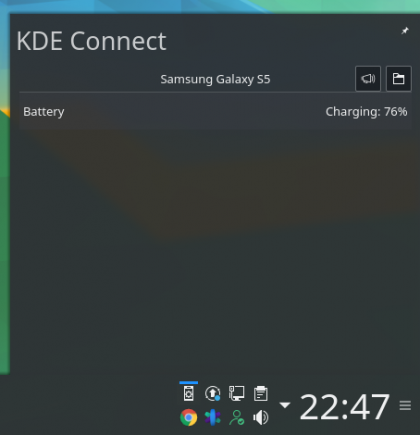 4) At the time of writing,  you can not use the user interface (UI) to send a SMS,  as it has not been implemented.  Therefore, to actually send a message you have to use the terminal.  This is being worked on and should be implemented in the near future.  But in the mean time, we can use the terminal as you can see below.
By running "kdeconnect-cli -l" you can see the devices paired, and learn their ID strings (You will need this to send an SMS).  Now you can build the command line to send your message 🙂

kdeconnect-cli --send-sms "<your message" --destination <mobile number> --device <mobile device ID> 
Where:
<your message> This is the content of the SMS message and what will be displayed to the recipient of the SMS, enclosed in quote marks.
<mobile number> The actual international dialling code number of your  recipient
<mobile device ID> The Device ID of the paired mobile device which will be used to send the SMS, use "kdeconnect-cli -l" to make a note of this.
5) Your paired device will send the SMS and it will appear in your messaging app on your paired device.
Replying to a received SMS
Thankfully, this is very simple.  When your paired device receives a SMS, you will get a notification on your Plasma desktop, like so: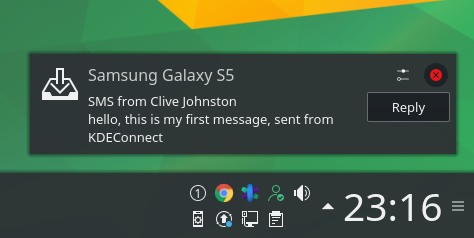 All you have to do is click the reply button and write your reply from the comfort of your desktop 🙂